roofing services
PVC Roofing and Roof Systems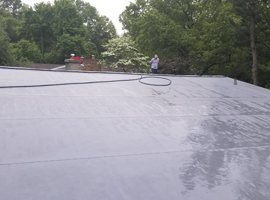 PVC roofing is an ideal residential, commercial, and industrial roofing system as it is reliable, easy to maintain, environmentally friendly, and easy to install.

PVC Roofing is comprised of three layers – a PVC polymer base, a strong, polyester-reinforced fabric center, and a durable thermoplastic PVC compounded top ply. PVC roofing systems are more resistant to chemicals, grease, tears, impacts, and punctures than other single ply membranes.

PVC Roofing Benefits:
Economical, Durable, & Reliable
Easy to Maintain
Permanently Heat Welded Seams
Lightweight & Flexible
Chemical & Wind Resistant
Class A, UL Approved Fire Rating
Energy Efficient - ENERGY STAR® Rated
Good choice for restaurant roofs (due to its grease resistant capabilities)
Available in white, gray, tan, and some custom colors, PVC roofs are highly reflective and carry the coveted ENERGY STAR® Rating. Common in both low slope and flat roof systems, PVC roofing systems are an economical roofing system for commercial, industrial, and residential applications.
get a quote